Cleaning up with the treble for London sustainable cleaning company
Key Enviro Solutions have been awarded not one, not two, but three Golden Service awards in recognition of their excellent cleaning service which operates across Central London with a sustainability ethos and exacting standards.
The family-run cleaning business which has grown significantly since its inception was recognised as:
Small business of the year
Supervisor of the year (Marino Agudelo)
Hospitality of the year
Judges notes included:
"Key Enviro goes above and beyond. The service level, spirit and client relationships are beyond impressive. For such a challenging, diverse and busy environment the site (St Katherine's Dock) was spotless. The pride shown by all Operatives at this site was very clear as soon as I stepped on site."
"Key Enviro moves forward with innovation, but follows a work environment that puts the Cleaning Operative first. Staff are respected and treated fairly. Practice and client relationship is excellent".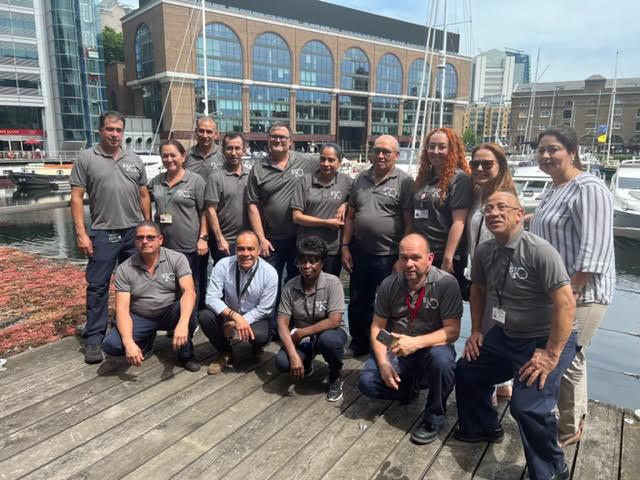 "Marino has developed a reputation for remembering the little details and celebrating them on a regular basis. Teammates say Marino is the type of boss who never forgets a birthday or a work anniversary. Not only does he remember those important milestones, he also takes the time to get to know all of the team who report to him and makes it a point to find out about their interests, both in and outside of work. Marino cares about each individual on his team, he's the person that everyone feels comfortable approaching for help or advice. Every morning his team has a 15- minute daily briefing, where they gather to discuss things like quality, workflow and good news stories escalated from the client's site facilities team"
Created over 30 years ago, the biennial Golden Service Awards is today one of the most prestigious events and sought-after accolades in the FM and cleaning industry. The event provides the opportunity for FM companies, contract cleaners and in-house cleaning teams to showcase excellence performed under unprecedented challenges, setting the benchmark for exceptional standards. Awards were presented to winners across 19 categories at a formal ceremony on 26 May at the InterContinental London Park Lane, hosted by one of the UK's most popular comedians, Ed Byrne.
Paul Openibo, Managing Director at Key Enviro Solutions said "We are a privately owned London centric company renowned for incredibly high standards. We have scaled our specialisms and expertise to offer a range of high quality, sustainable and nationally accredited services. We are absolutely delighted to have won these three awards, and I'm truly grateful to my hard-working team, as without them we just couldn't deliver the exacting standards our clients are used to. I'm very proud."
Businesses can visit Key Enviro Solutions recently updated website at www.keyenvirosolutions.co.uk and start making waste management easy, dependable, and environmentally beneficial without breaking the bank.